Recipe: Adorable Easter Bunny Cake
This adorable Easter bunny cake is is easy to assemble and made with a basic butter cake recipe.
Recipe republished courtesy of Edmonds
BASIC BUTTER CAKE 
INGREDIENTS
150g butter, softened
1 tsp vanilla essence
3/4 cup  white sugar
2 eggs
11/2 cups Edmonds standard flour
3 tsp Edmonds baking powder
3/4 cup  milk, approximately
icing sugar
METHOD
1. Preheat oven to 180ºC. Grease and line deep 20cm round cake tin with baking paper.
2. Cream butter, vanilla and sugar until light and fluffy. Add eggs one at a time, beating well after each addition. Sift flour and baking powder together. Fold into creamed mixture. Add sufficient milk to give a soft dropping consistency.
3. Spoon mixture into the cake tin and spread evenly.
4. Bake for 35 to 40 minutes or until cake springs back when lightly touched.
5. Leave in tin for 10 minutes before turning out onto a wire rack to cool. When cold dust with icing sugar.
---
TO ASSEMBLE THE BUNNY CAKE
Cake: Make two butter cakes using the butter cake recipe above (x2)  or use  two packets the Edmonds Classic Golden Butter Cake mix according to the packet instructions. Cool completely before icing. (The cakes can be made a day ahead.) If they have a little dome, trim them flat once cooled to make them easier to ice.
---
TO MAKE THE ICING
150 grams softened unsalted butter
2 cups Chelsea Icing Sugar
1 teaspoon vanilla essence
2 tablespoons hot water or warm milk
Beat the butter until smooth, pale and fluffy. Gradually add the Icing Sugar, half a cup at a time. Add the vanilla essence and enough of the hot water to make a creamy mixture, beating between each addition until fluffy. Set aside for decorating.
---
DECORATING:
4 cups threaded coconut
Pink sprinkles (for bunny ears)
M&Ms (for eyes, nose and mouth)
Black liquorice (for whiskers)
Green food colouring (for grass)
Step 1. Place one cake upside down on a cutting board. Place the second cake upside down on the board or platter you will serve the finished cake on. (This way you're working with the flat side of the cakes.)
Step 2. Carefully cut the first cake into three pieces in the shape of two bunny ears and a bow tie. Move the pieces into place around the second cake. (See picture).
Step 3. Cover the face, bow tie and ears with the icing, spreading it on top and down the sides.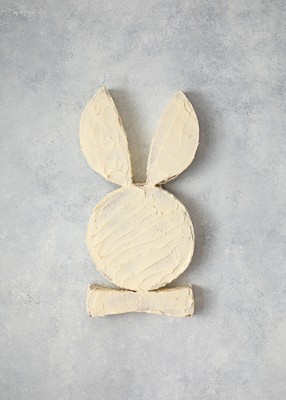 Step 4. Take two cups of the coconut and sprinkle it over the iced cake but leave a small space inside each ear for the pink sprinkles. Pat the coconut gently into the icing, making sure you do the sides too. Gather up any unused coconut and set aside.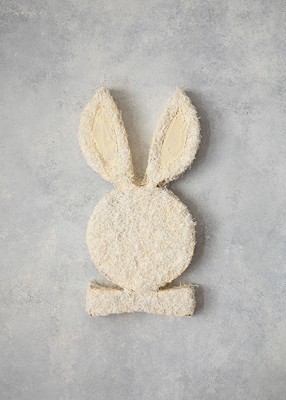 Step 5. Use the pink sprinkles to fill in the centre of the ears.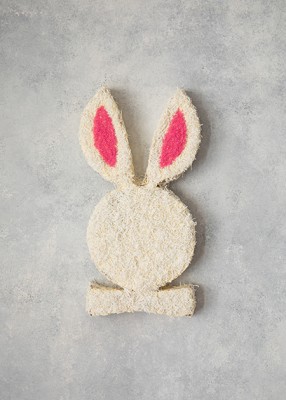 Step 6. Use the M&Ms to add the eyes, nose and mouth and to decorate the bow tie. Cut the liquorice into thin strips to make the whiskers.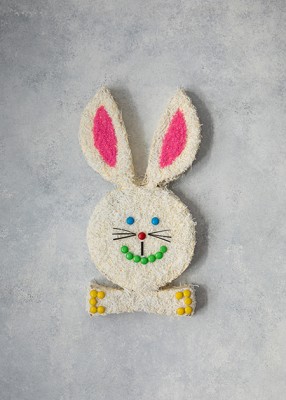 Step 7. Place the remaining 2 cups of coconut in a bowl with 2 teaspoons of green food colouring. Mix thoroughly until all the coconut is green. Sprinkle the green coconut around the cake to form a green grass border. For an extra flourish you can decorate the grass with Easter eggs or chocolate treats.